Welcome to MICROCON 2021, Guwahati! 21st December 2021 Preconference Workshop Main conference on 22nd, 23rd and 24th December 2021 "Clinical Microbiology in the wake of emerging threats"
Highlight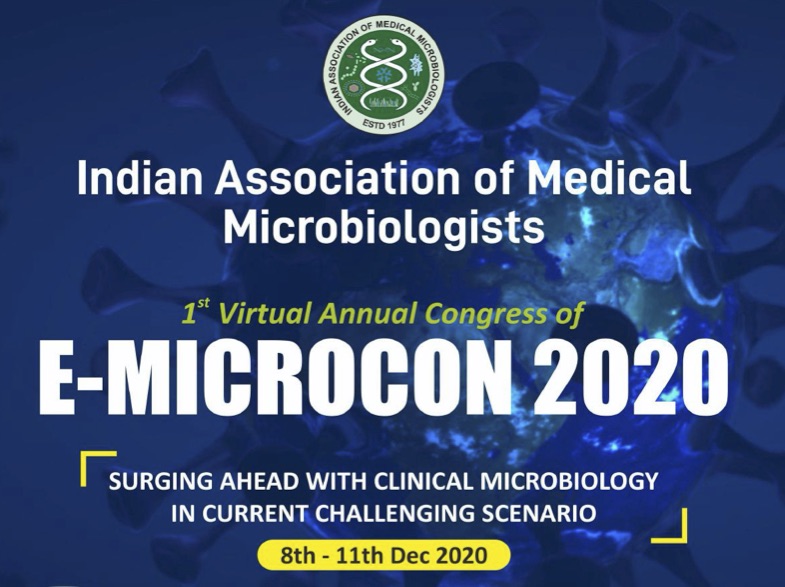 Emicrocon 2020
The year 2020 has been an exceptional year most will prefer to, but can hardly forget. The etching memories of the viral pandemic which turned devastating but on the positive front it taught us many scientific, social and philosophical principles that we deviated from and ignored while basking in the glory of the rapid technological, economic and social progress over the past few decades. We learnt the value and need for behavioral changes, the New Normal. It also taught us how tooptimally utilize the technological advancements to fast track scientific knowledge during a crisis. It also taught us how to use digital technology optimally to work remotely saving resources without compromising productivity- whether in professional work or academics. Human interactions became virtual, and became the safest and most favorite meeting place. At the same time many members felt a void in organized academic activities and felt the need for a fo- rum for discussing the contemporary scientific topics relevant to the current situation. The idea of a virtual eMicrocon was conceived. As a part of the Organizing Committee, I welcome all participants, speakers, moderators, panelists and most importantly, the delegates, from India and abroad, and I am sure we will all enjoy the academic deliberations, sitting in the comfort of home or office, during the trying times. --- Dr. Pallab Ray, President IAMM
Journal
Indian Journal of Medical Microbiology
For An official journal of Indian Association of Medical Microbiologists Login Click Here..
Indian Journal of Medical Microbiology (IJMM) provides comprehensive coverage of medical microbiology, as well as infectious diseases. We welcome wide ranging contributions; from basic research at laboratory to clinical trials, including bacteriology, mycobacteriology, virology, mycology and parasitology, infection prevention and control, and infectious diseases.